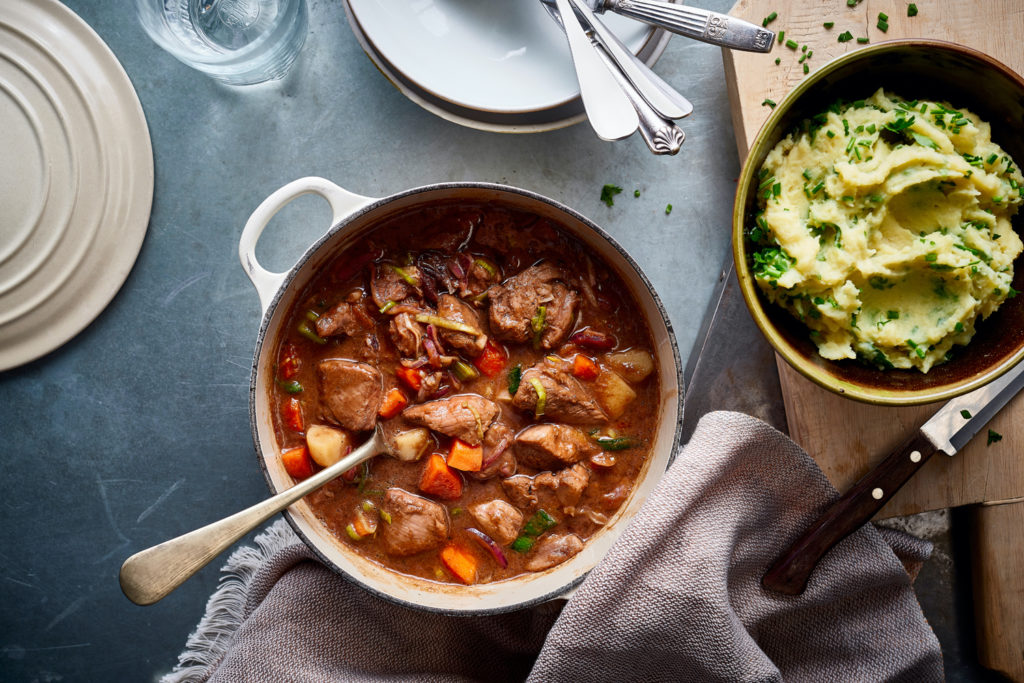 Serves 4
For the casserole
650g/1lb 7oz diced lamb (shoulder or leg)
2 tbsp plain white flour, seasoned with a pinch of salt and pepper
1 tbsp olive oil
25g/1oz butter
1 tbsp tomato puree
300ml/½ pint red wine
300ml/½ pint beef stock
leaves from 1 sprig of fresh rosemary, finely chopped
1 garlic clove, crushed
1 carrot, chop into chunks
1 red onion, finely sliced
2 celery sticks finely sliced
Pinch of salt and pepper to season
1 potato chopped into small chunks
For the mashed potato
10 Maris Piper potatoes peeled and cut into chunks
1 tbsp milk
2 garlic cloves, crushed
3 tbsp butter
Pinch of salt to season
1 tbsp fresh chives, finely chopped
Method:
Preheat the oven to 180C/350F/Gas 4.
Coat the diced lamb with the seasoned flour.
Heat a large frying pan until very hot. Add the oil and the butter and then the lamb and fry over high heat, stirring now and then, until all the pieces of lamb are slightly browned on the outside. Transfer to a casserole dish and set aside.
Add the tomato puree and red wine to the pan and bring to the boil, scraping up all the little bits that have stuck to the bottom. Pour this into the casserole dish and add the stock, rosemary, garlic and vegetables.
Add a little seasoning, cover with a tight-fitting lid and bake for 1-½ hours or until tender. (If using a slow cooker, cook on auto for about eight hours).
Remove from the oven and give it a stir and put to one side whilst you prepare the mashed potato.
Peel, wash and dice your potatoes and boil in a saucepan for 12-15 minutes or until soft.
Once boiled, drain all the water from the saucepan.
Mash potatoes using a potato masher.
Add the garlic, chives, butter and milk to the mashed potato and stir in with a spoon until well combined.
Serve.