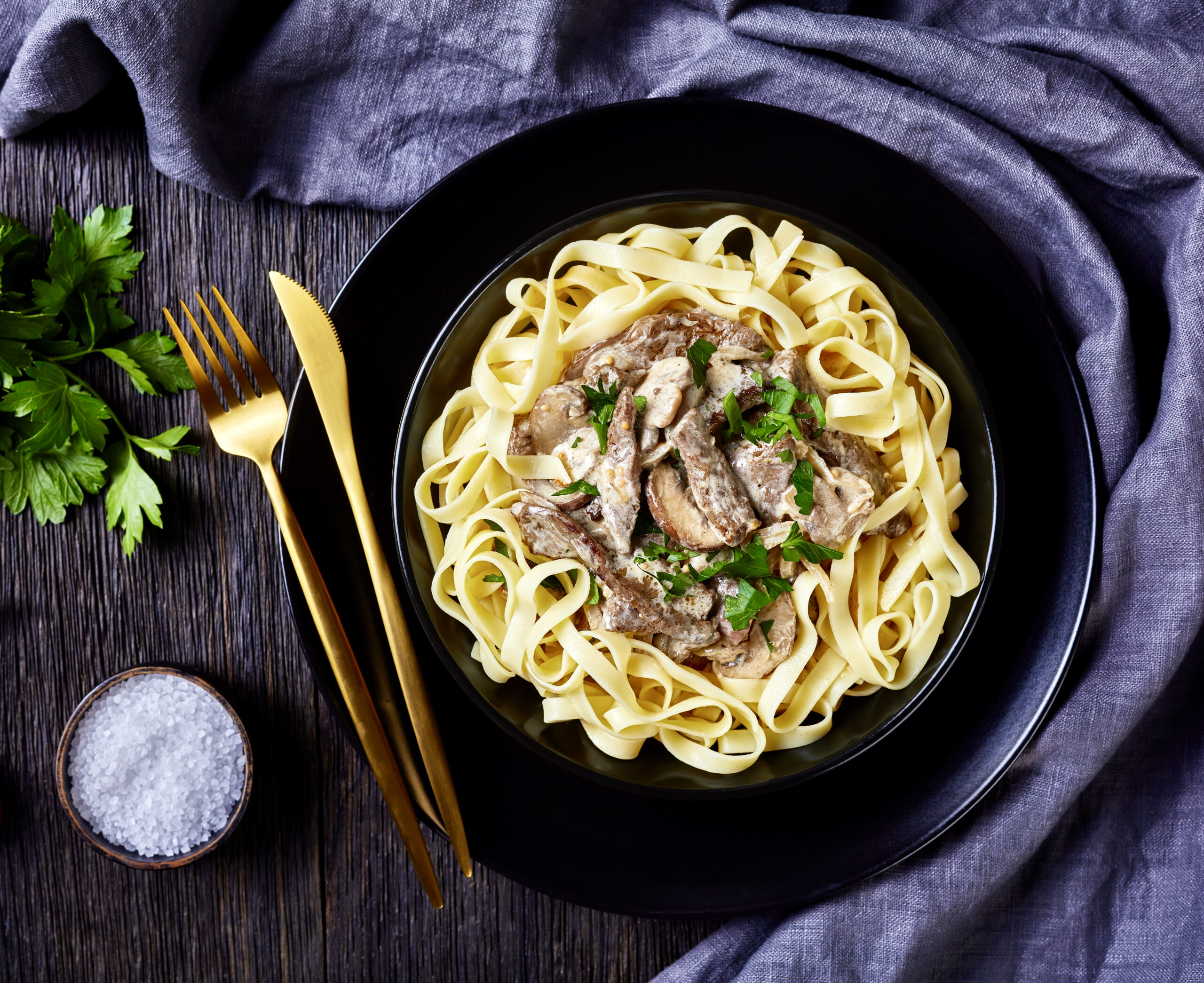 Creamy Beef Stroganoff has to be one of our favourite meals. This recipe is so simple yet never fails to deliver on flavour and will leave you wanting more. It can be served with rice or mashed potato but at Bevan's, we prefer a tagliatelle or linguine style pasta.
What cut of beef is best for stroganoff?
We recommend using a tender, juicy cut such as ribeye, sirloin or bavette. You could use braising steak but this will require a slower cook so if you flash fry, the meat will likely be tough.
Serves 4
Ingredients:
2 x 250g sirloin steaks

1 tbsp butter

1 tbsp vegetable oil

3 shallots, finely chopped

300g small button mushrooms

400ml beef stock

2 heaped tbsp crème Fraiche

1 tbsp Dijon mustard

1 tbsp capers (optional)

Pepper and salt to season

Finely chopped parsley, to serve

500g tagliatelle
Method:
First, prepare the sirloin steak. Season with salt and pepper. In a large frying pan, heat the vegetable oil. When the pan is hot, add the steak. For a medium-rare steak cook for 1.30 minutes each side. Once cooked set it aside and leave to rest. They will still be a little blue in the middle but when you add them to the sauce later on, they will continue to cook.

Heat the butter in a large frying pan and add the mushrooms and shallots until the mushrooms have browned and the shallots have wilted down. Boil the pasta.

Chop your steak up into thin strips and leave to one side.

Slowly begin to add the stock whilst stirring and let it simmer for 2 minutes. Add the crème Fraiche, mustard and capers and give it a good stir until its combined. Finally, add the steak.

Serve over pasta and season with parsley before serving.

 
We hope you love this recipe as much as we do. If you try it out let us know your thoughts in the comments and we'd love to see you tag us in your cooking photos on Instagram @bevansbutchers.