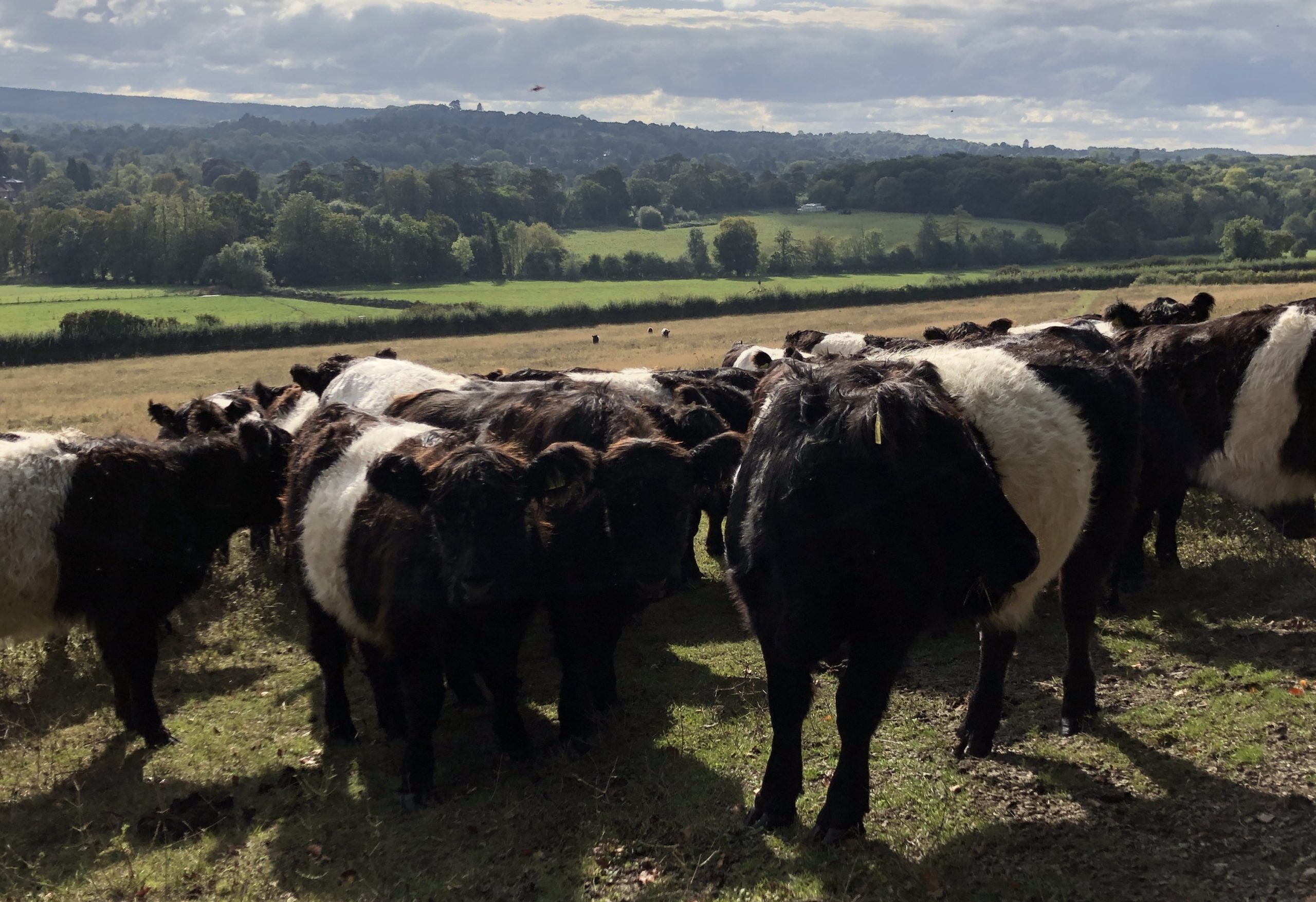 With sustainable meat-eating at the forefront of our minds, we recently took a trip to visit some remarkable Belted Galloway cattle reared locally at Manor Farm in the Surrey Hills.
Belted Galloway's are a breed of cattle originating from Scotland where the weather is often damp, cold and the terrain boggy. Spending all year round outdoors the cattle are well equipped with thick fluffy outer coats and a soft fleece-like undercoat making them hardy enough to live in the extremes of the weather!
Our Beltie beef has been reared a mere 10-minutes' drive away from our branch in Effingham by Paula Matthews. From the minute they are born to the end of their lives, Paula's premium Belted Galloway cattle are given attention, constant care and are left to freely roam the herb-rich chalk grasslands in the Surrey Hills. Paula oversees the entire process of rearing the animals to the highest welfare standards, making them fully traceable from field to fork.
Sustainability is an essential part of Paula's approach to farming and food production. As such, her suckler herd undertake important conservation grazing for Natural England and the National Trust helping to maintain the extraordinary landscape and produce a healthier more biodiverse grassland for wildlife to thrive in.
Landscape management is incredibly important and Paula's Belted Galloway's are part of the climate solution, as they graze the grassland, this stimulates and speeds up carbon sequestration in the soil while also providing us with healthy nutritious protein.  Whilst the cattle are undertaking the conservation grazing of the Surrey Hills, this means that the Belted Galloway beef is only available at certain times of the year but this does result in well-marbled, slow grown beef that many other breeds would not be able to compete with.
The care and attention to detail doesn't stop in the field. Before being prepared by our expert butchers, Ian and Myles, we have dry-aged the beef on the bone for 30 days in our state-of-the-art chiller, making it even more tender, richer and almost buttery in flavour.
Completely astounded by Paula's dedication and commitment to these remarkable cattle and her approach to sustainable farming, we are extremely delighted and proud to be supporting a local farmer and supplying her fully traceable Beltie beef. From the tender stewing cuts to the finely marbled steaks, we can guarantee that you will not be disappointed!
Available in-store now exclusively to Kingston.
To find out more about Paula and her Beltie Beef follow: 
http://www.manorfarmsurrey.com/manorfarmsurrey.com/default.asp